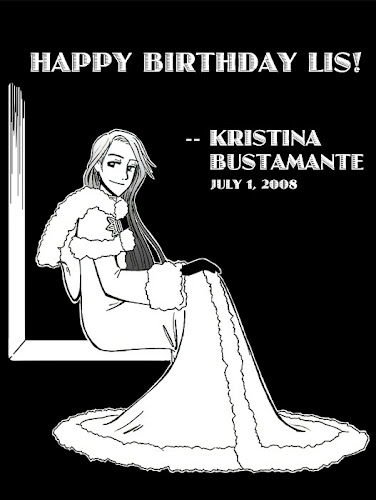 Today is friend and fellow animator Lis Savic's birthday. A little about Lis: she's an LMU animation sophomore-to-be, who is dedicated heavily to her craft. In her spare time, she likes to go adventuring, write about her dreams and thoughts, and read fantasy novels and manga, among them being "Tsubasa: RESERvoir CHRoNiCLE." The latter explains why I have her drawn in how I think CLAMP would draw her, dressed in one of Fay D. Flourite's outfits – though I think I probably should have made her limbs longer, since those dang CLAMP ladies like to draw their characters so insanely tall it doesn't look right at times.
Oh…no offense, CLAMP lovers! I'm a fan, too! I collect their art books like crazy!
As the title states, there's more birthday art on the way because not only are more people's birthdays coming up, two people's birthdays have already passed. Geez, I'm so insanely late on this one guy's drawing, I'm wondering whether I should consider it a birthday present anymore…
Well, whatever. The fool will love it, or I'll kill him!
…with my cuteness. Or something. Hmm…