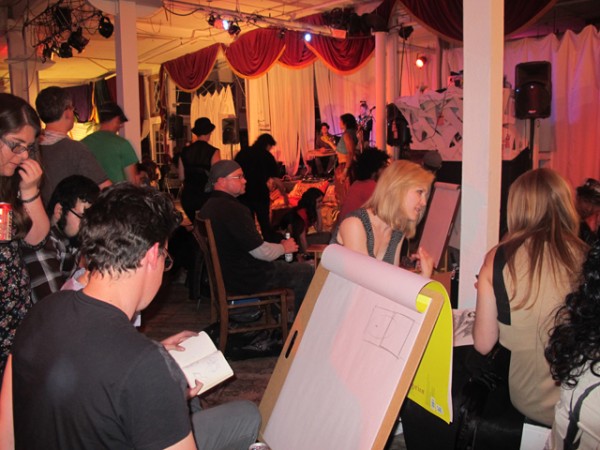 Every now and then, a group of models called the Gallery Girls hold a late night drawing salon called Turkish Delights, where artists can draw, eat, drink, and be merry in an Ottoman Empire-inspired setting. The latest Turkish Delights, The Veil Dance, occurred on Friday, May 11, from 9 PM to 2 AM at the Syrup Loft in the Fashion District of Downtown LA. Photography was not allowed unless you paid $65 for a photo pass, but I was able to strike up a sweet deal with the lovely Jennifer Patton, where I could snap photos for free, provided that I didn't take any of the nude models, and that I promote the event on places like the blog, Facebook, or Twitter. You could say that I came in as a member of the press. Boy, did that make me feel fancy!
Reluctant to be there after a long day of work, I soldiered on, anyway, motivated by the promise of meeting new artists, seeing my friend Pierre Bernard, Jr., whom I hadn't seen in ages before the event, producing great artwork (meh, they were okay), and an exciting story for the blog.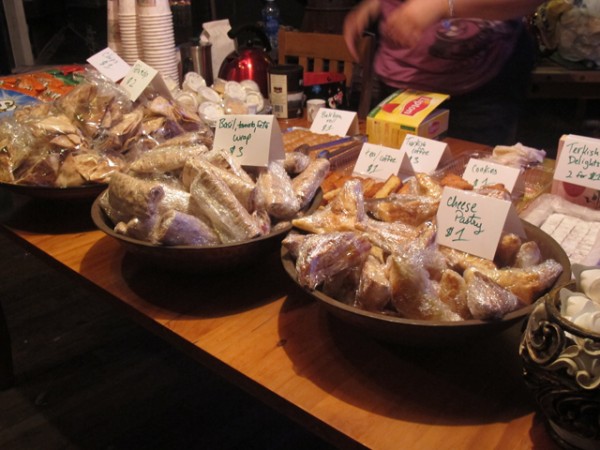 First things first, though, I needed to eat! Once I had set up shop at the stage closest to the entrance, I headed straight to where the food was, and on the recommendation of the people hanging out there, I got myself a basil, tomato, feta wrap, and a cheese pastry. Yum!
Energized after my mini meal, I was able to focus on the tasks at hand, and for the rest of the evening, I alternated between drawing, socializing, and taking notes and pictures of my surroundings.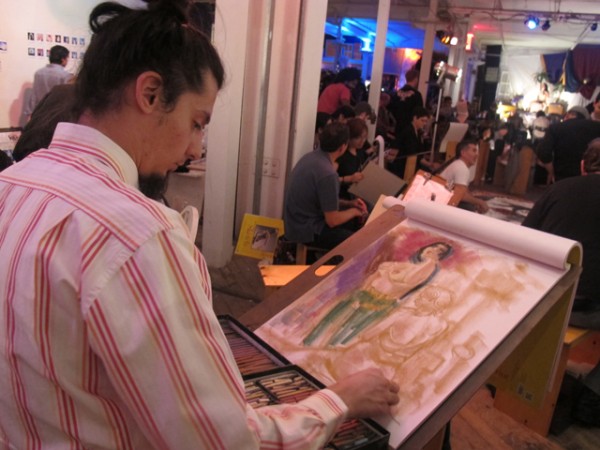 There were three stages in the room, two dedicated to 25 minute poses, and one for longer poses for painting. I stayed mainly by the stage closest to the entrance, where my friend, Titmouse artist Angelo Di Nallo, got all Zen with a set of pastels, tuning out the world as he created the most colorful pieces of that night. Even as people talked to him, you could see clearly where most of his attention lay. But that's to be expected of a guy, who, every time that I have seen him, is always drawing.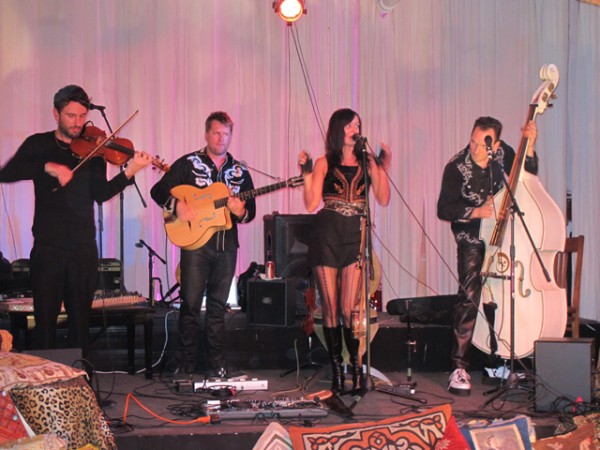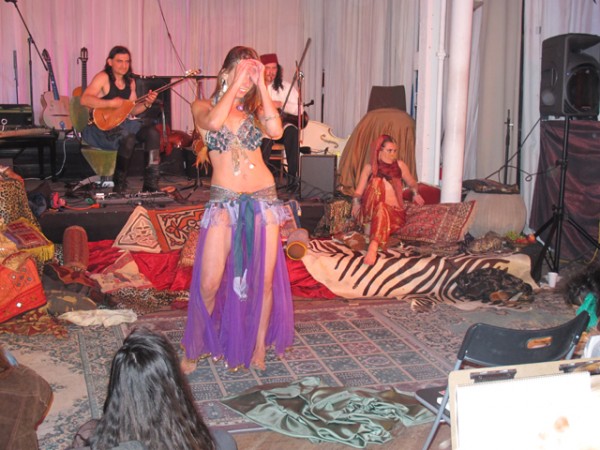 As models posed in front of the center stage, live performances by the band Fishtank Ensemble, and the duo of Vedat Gursoylu and Donavon Lerman, filled the loft with high-energy music to pump artists up for even more drawing. I could certainly feel myself drawing much faster whenever Fabrice Martinez got crazy with the violin.
Belly dancing accompanied Vedat and Donavon's special Turkish set of bağlama and percussion. Having been to a previous Turkish Delights event, this was the part that I looked most forward to, so it confuses me that I didn't capture any of it on video; the photos I took, which mostly turned out blurry, don't do the dancing much justice.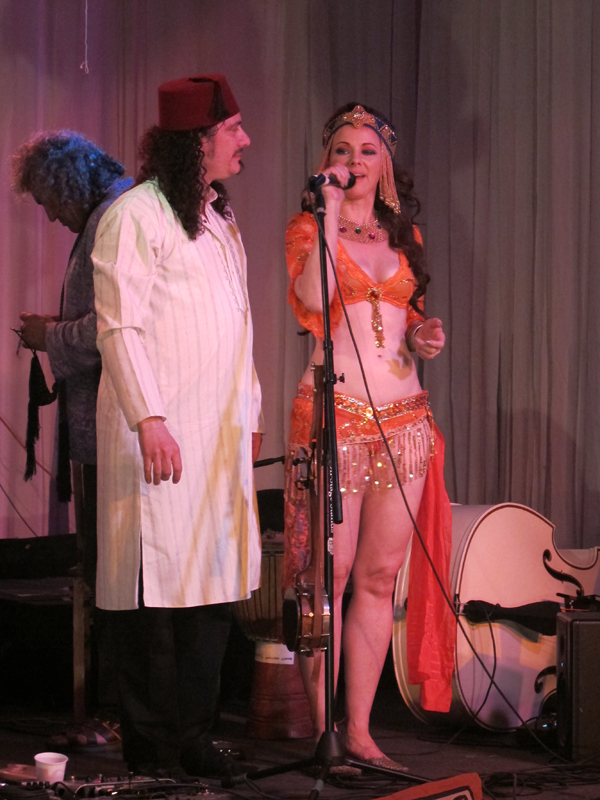 Around 1 AM, Jennifer and Donavon took center stage for the obligatory closing speech, which had pretty much everything you could expect from a closing speech: announcement of future events, where to tip the fine models who worked so hard to make this happen, thanking everyone for a phenomenal turnout, etc. Regarding the latter, though, the turnout seriously was outstanding. It was so crowded that there weren't enough seats for people to draw on. And it was really hot in there. Oh, you know why.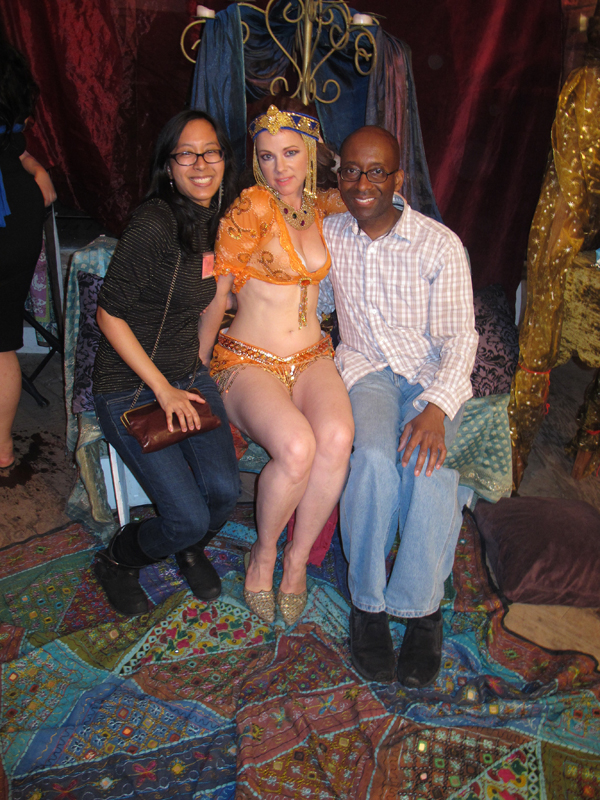 Lastly, my favorite picture of the night: me with Jennifer and Pierre! Couldn't resist sharing it. So colorful and pretty!
To see more photos of Turkish Delights, go here.