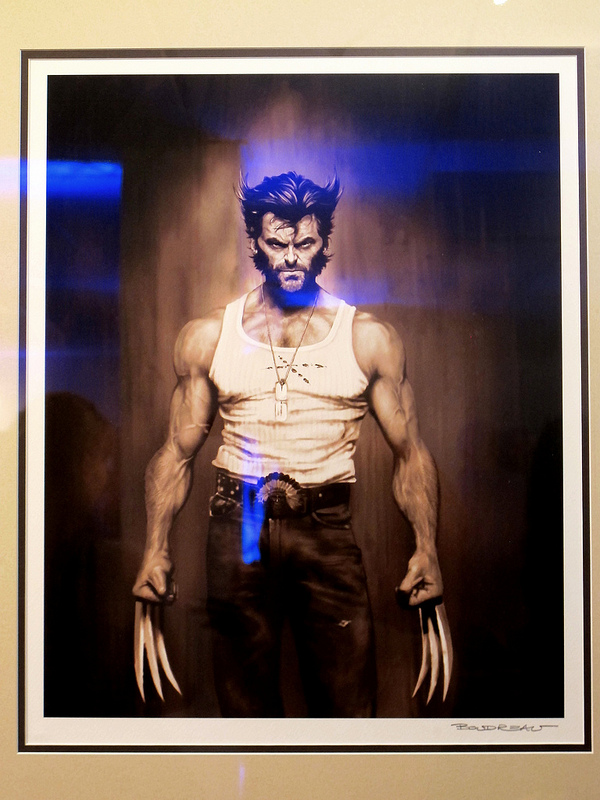 Currently going on at the Center Stage Gallery in Burbank is Faces, the first solo exhibition by my cubemate David Boudreau. It features his best celebrity/fictional character caricatures from the past three years. Last week on Friday, September 20, was the opening reception for the show, with David's friends, fans, and co-workers in attendance. A successful turnout that was very well-deserved, considering David's talent, and how hard he has worked to bring this exhibit to life.
Truly, he has come a long way since his interest in drawing portraits was renewed back in 2010 (according to his artist statement on the Center Stage Gallery site, he used to draw portraits of his friends when he was in high school). I remember there being times when production on "Family Guy" was slow, and how we would have downtime that would last for days, sometimes weeks. To offset boredom, David would pull up photos of celebrities or fictional characters from the internet, and draw them in Toon Boom Storyboard Pro. That was how it started.
His subjects ranged from Captain Jack Sparrow to Mick Jagger. At first, he simply sketched and drew. But as his skills increased from the amount of work he was producing, it wasn't long before he graduated to full-blown paintings with a level of color and detail that I, or most people, would not expect to come out of hours spent on software for storyboarding.
Nowadays, he works in Photoshop, but don't be fooled: this guy takes no shortcuts (i.e. filters, textures, backgrounds). Every brush stroke, sketch mark, and detail are his, and his alone. David hopes to work traditionally someday, and he cites his father, and Sebastian Krüger as his inspirations.
Faces will be on display until October 12. And for those in the Los Angeles area who would like to know more about David Boudreau, you can meet the artist himself for a conversation and live painting demonstration at the Center Stage Gallery this Saturday, September 28, from 1 PM – 4 PM.
For photos from last week's opening reception, check out the set on Flickr.