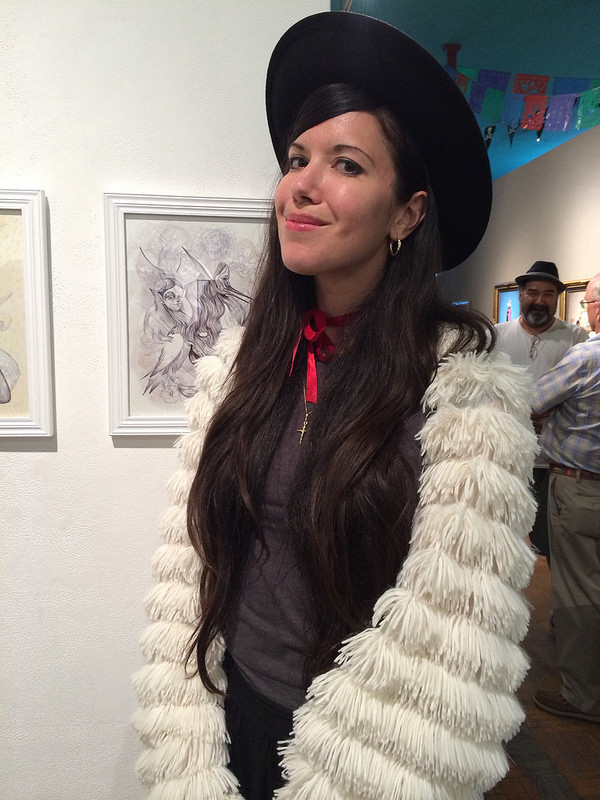 I am standing next to the back entrance of the gallery, poring over paintings of skulls on wooden plaques by an artist unfamiliar to me under the moniker Jinx. My eyes gaze for a second in the direction of the front door of the vicinity – perhaps I am looking for my friend April Connors, whom I have brought with me that night – when a beautiful figure glides through the entryway before me. She is like a character that has just stepped out of the pages of one of my favorite mangas, Ai Yazawa's "Paradise Kiss," dressed in a monochrome outfit of blacks and grays, with a top and skirt combo, black tights and heels, head adorned in a feathered hat, a red ribbon providing the only pop of color tied around her neck, and the pièce de résistance: a dramatic white fringed bolero. She is my high school classmate Katherine Brannock, the reason why I have made the journey to the La Luz de Jesus Gallery tucked away in the far corner of the Wacko Soap Plant store in Los Feliz, for the artist reception of Laluzapalooza.
A week prior to this, I had run into Kathy for the first time since 2003 at Comic-Con, where she was exhibiting with her extensive portfolio of ballpoint pen drawings, and a new hardcover collection of sketches from French publisher Xupuy. It was wonderful to see that she was still flourishing artistically, for Kathy was already very talented when I knew her in high school – the most skilled artist I knew in those days, actually. As we caught up on each other's lives, I learned about her profession as a tattooist, and how we both have similar aspirations of publishing our very own graphic novels. Then there was the upcoming Laluzapalooza, where her work was to be featured among four other artists: Frank Forte, Hueman, Jinx, and Sean Stepanoff. Obviously, I felt compelled to show my support.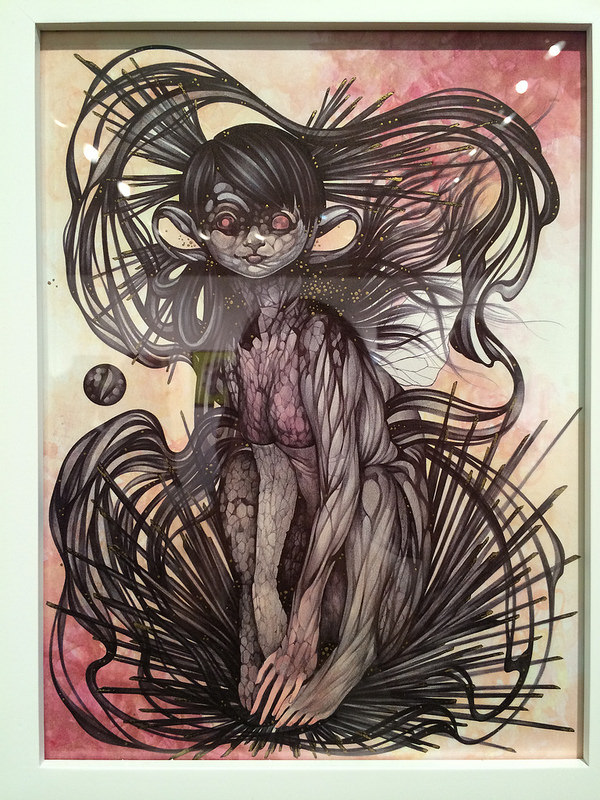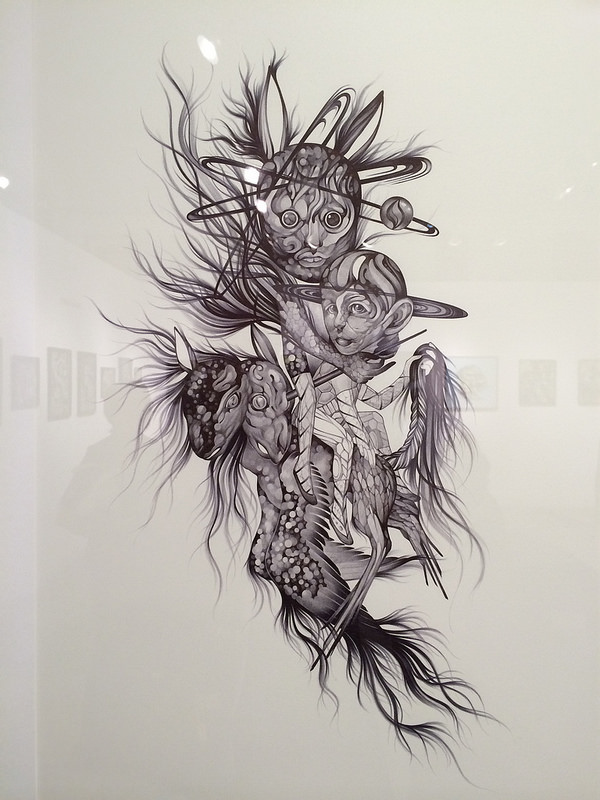 At the gallery, Kathy and I talk about her work: ten sketchbook pages, and one elegant piece of a larger scale done on Fabriano paper, that hang on a wall solely dedicated to her. Gloriously rendered in ballpoint pen, with occasional touches of bronze ink and watercolor in red and golden hues, her works are inhabited by fantastical humanoids and anthropomorphic creatures floating in the ether, their long flowing locks of hair, and inky sinewy things resembling oil and smoke, spiraling around them in a symphony of gradations and textures. Details that stylistically, to me, seem like a ménage à trois between Eric Canete, John Tenniel, and Claire Wendling, with H.R. Giger standing on the sidelines as a kind of referee.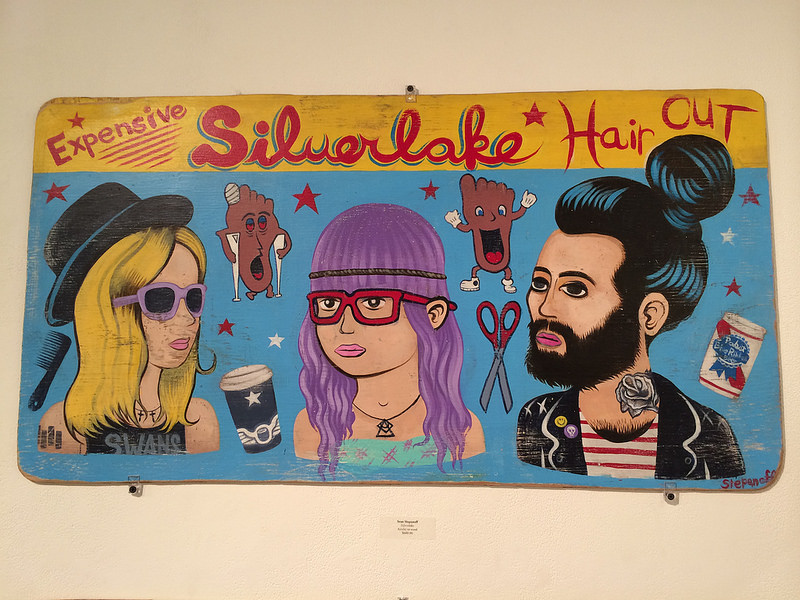 Kathy's work speaks to me in a way that the other exhibit pieces do not – the same goes for April, as I will later learn that evening. The La Luz de Jesus jury appears to agree with me on this, as indicated by their glowing review of her in the Laluzapalooza Jury Winners list, her summary being the longest. Not to say that the other artists' works do not display the tremendous talents of the people who breathed life into them; they do. It's just that Kathy's voice is far more new and unique in comparison to the still lifes of skulls, quirky hipster caricatures, and creepy 1930s cartoons that have been done many times before.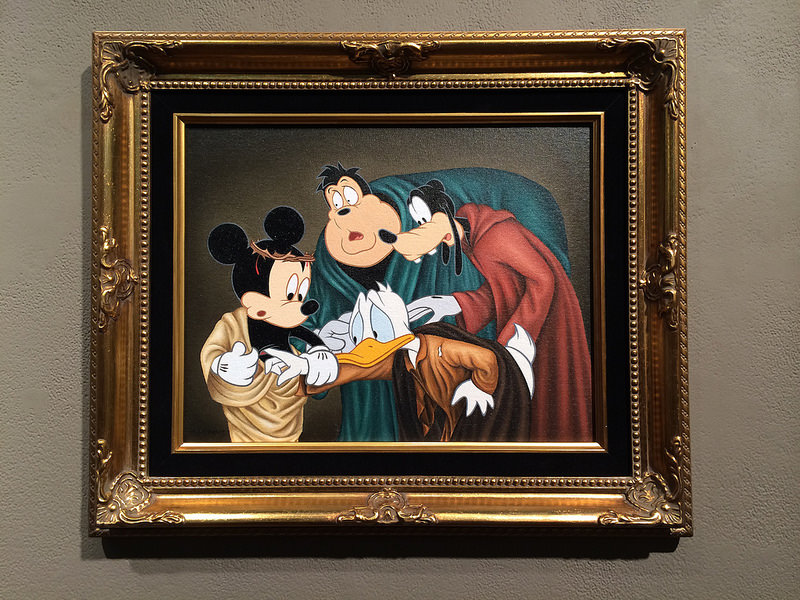 And who hasn't chanced upon a picture or two lampooning the likes of Mickey Mouse, Donald Duck, and other Disney characters, as seen in José Rodolfo Loaiza Ontiveros's Profanity Pop exhibit in the adjacent room? Though I must say, as a Disney fan, I find this unexpected solo show thoroughly enjoyable.
Laluzapalooza is on display until August 31, 2014, at La Luz de Jesus Gallery in Los Feliz. For more pictures of the artist reception, check out the set on Flickr.