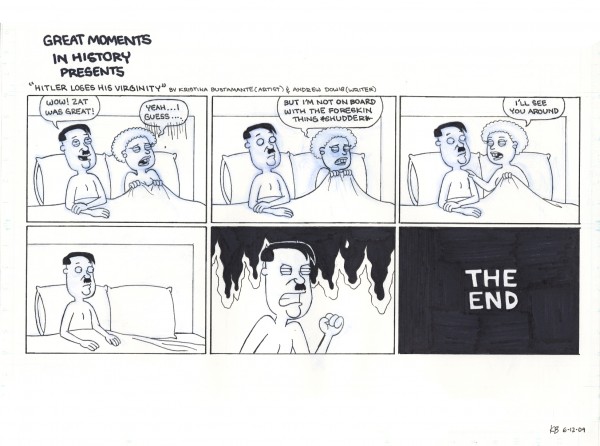 On Friday, June 12, I submitted the above comic for the "Family Guy" art show, themed Great Moments in History. The strip was a collaborative effort between me and my friend, Andrew Dowis. Andrew was the first and only person that came to mind for writing for my submission, since his sense of humor practically mirrors that of the show. That, and I knew I wouldn't be able to pull off any sort of joke that would feel even remotely "Family Guy"-ish. Not to say that I don't have a sense of humor, but my jokes (if you can even call them that) tend to be more on the innocent and playful, or even disturbing, side.
The strip sold for $100, which was obviously freakin' sweet for the both of us. And Andrew was so pleased with how the comic turned out that he decided to color it: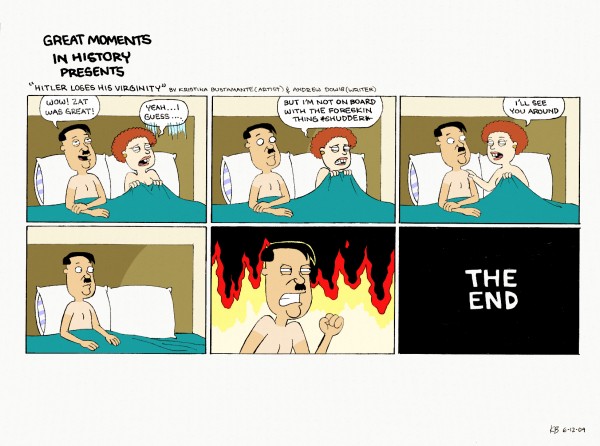 Coloring completed two days ago with Photoshop. Other materials used were Col-Erase blue pencil and Copic pen on Japanese comic book paper. I can't stress enough how much Copic pens rule. Seriously. They're awesome.