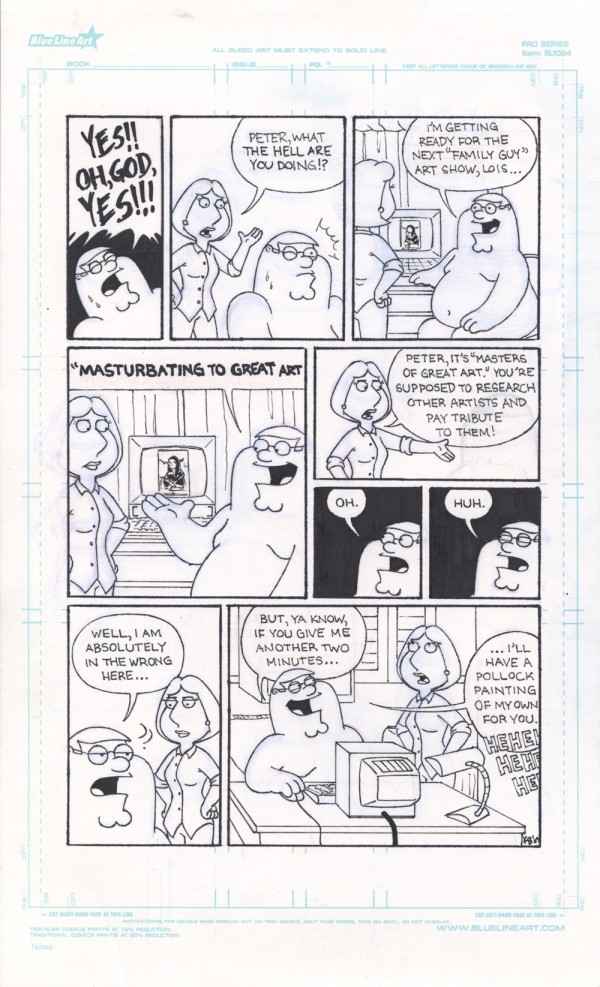 Next in this series of Fox TV Animation art show posts is the comic "Pollock," formerly titled "Rejected Works of the Masters Comic." It is the second collaborative effort between me and my friend Andrew Dowis, the first of which can be found here. Back when I was deciding on what to do for the "Works of the Masters" show, I turned to Andrew on the possibility of doing another comic together. Ever the brilliant comedian, he came up with the pictured scenario of Lois walking in on Peter, but with three different punchlines for me to choose from. One poked fun at Georgia O' Keefe, the second at Jackson Pollock, and the last at Salvador Dalí. They were all very funny, but I ended up setting the comic ideas aside for the more ambitious Mucha project. Hence, the "Rejected" title.
A month after the "Works of the Masters" show, the annual Winter Charity Art Show – we have one every year at Fox, with all proceeds benefitting the Children's Miracle Network – was announced. With no stated theme on this one, I was free to draw whatever I wished, and as I thought of what my submission would be, I remembered the comic ideas Andrew had e-mailed to me for the previous show.
"Pollock" made its debut on Friday, December 11 that year. It was sold for $100 to Bill Buchanan, a timing supervisor on "American Dad."
Fun story: I remember Bill approaching me one day to thank me for the comic. He then told me of an exchange between a friend and his son, who were visiting him at his office, where the framed comic was sitting on the floor. The boy was reading the comic, and before he could even finish asking his father what it all meant, his father interrupted him with "Don't even read that!" as he turned the frame over. It's strangely flattering to know that a kid was nearly corrupted by something I drew.