Today is the Summer Superhero Art Show here at Fox TV Animation. As usual, I'm a participant. Aside from that, though, there are a lot of amazing pieces in this one. For the first time, I'm actually bidding for a few, one of them being a "Watchmen"/"Family Guy" piece by
Mick Cassidy
that I probably won't get because I suspect the bidding competition for it will be fierce.
My submission features Torunn from "Next Avengers: Heroes of Tomorrow," a straight-to-DVD movie that I freelanced on back in '07. It was originally done as practice for the show on Tegaki E. But as I found myself still working on it after a few weeks had passed, I figured that it would make a great submission for the show. When the tegaki was finished, a backwards look at a test print revealed errors that I was not aware of while I was working on it. As a result, Photoshop was used to fix these errors.
There are four different versions of this work, the original being the flawed tegaki that I'm too ashamed to post here. But if you must look, you can find it here. Of the three Photoshop passes, this first one is my favorite: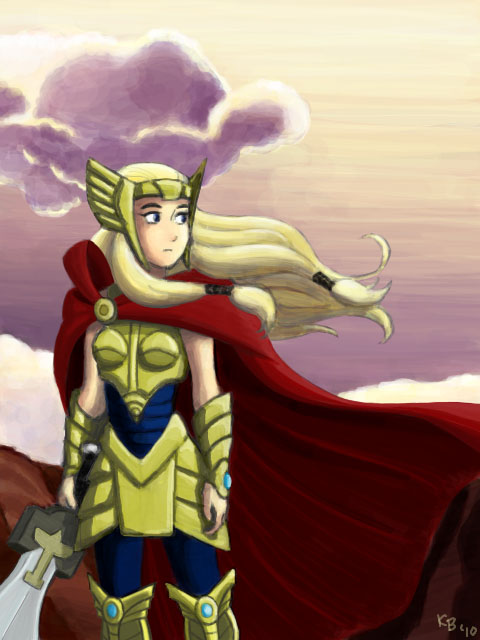 What I love most about it are the purple hues of the sky and clouds, which isn't as apparent in the final pass. Yet I chose to submit the latter because of a second opinion from my co-worker Dante, who pointed out that it had better contrast, and I feel that it's a more accurate depiction of sunset. Or maybe twilight? Not too sure.