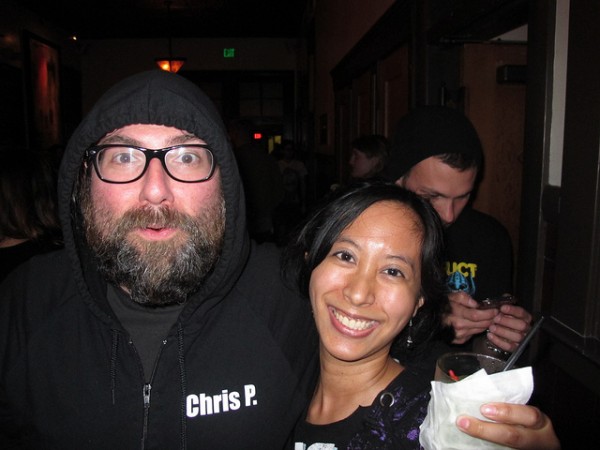 As some of you know, "Metalocalypse" is practically my favorite show on TV. I've actually done fanart for it in the past – just watch out, though, it's pretty gay. So it was like a dream come true being able to go to the Season 4 premiere party at Edendale in Silver Lake last night. I didn't stick around until the end, however, due to it being a Sunday night and having work the next day. Like, really… why does the show have to be at 12:15? 10 PM like "South Park" seems like a much more agreeable time.
While I was there, I got to have a chat with the founder of Titmouse Inc. and creator of "Motorcity," Chris Prynoski, about, well…"Motorcity." He had been working on the series for around ten years now, and finally got his big break. We both agreed that the long journey was rewarding, considering how far animation technology has come. Had the series been made when he first came up with it, it wouldn't look as sleek and drop-dead gorgeous as it does now. Just watch it tonight, and imagine how it would look animated on cels. Yeah…
I was also able to express my gratitude over him retweeting my previous post of Lois Griffin as Julie from the series. It was really an honor to the both of us. He was thrilled that people were already making fanart for the series when it hasn't even aired yet, and I was starstruck that the creator of the show would even take notice of my work.
I forgot to ask him if he's a fan of "Family Guy," but I did learn that he has been to Fox TV Animation a couple of times. He's actually friends with supervising director James Purdum! I've worked with James a couple of times, and he's a really nice guy, but very soft-spoken and business-like, so it's really funny imagining him playing Dungeons and Dragons and cracking jokes with Chris. I like learning new things about my co-workers, haha!
"Motorcity" premieres tonight on Disney XD at 9 PM. I'm actually going to the premiere party tonight with my friend Ben Li, who is one of the animators on the show.