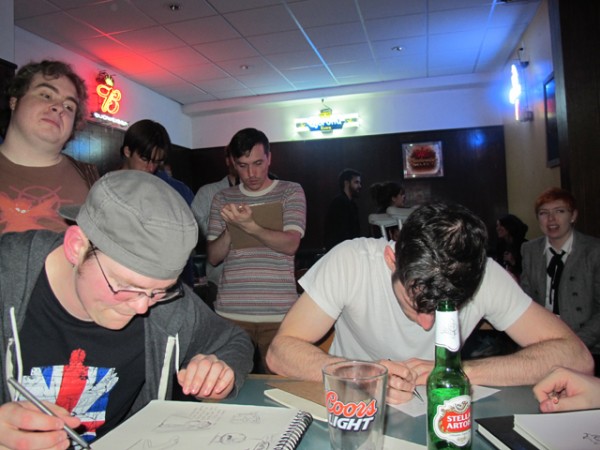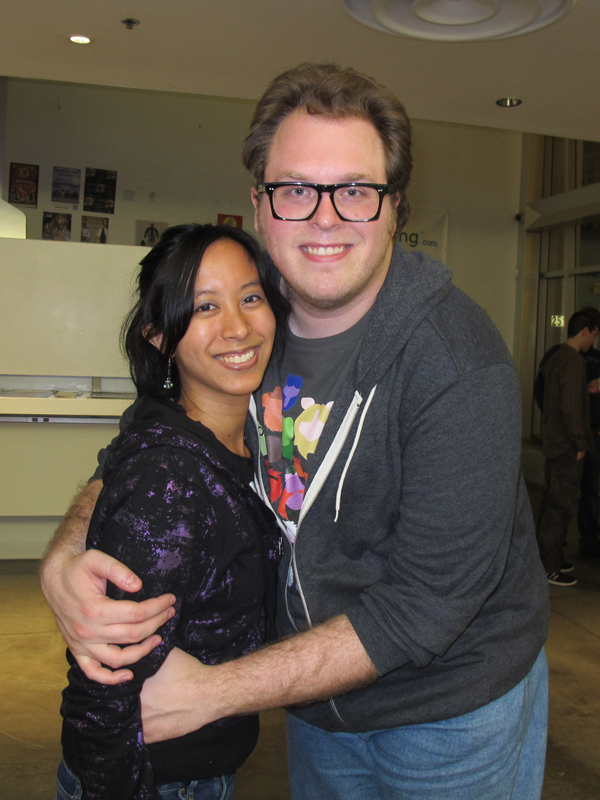 There was a lot of drawing, but not much drinking on my part, to be had at Drink and Draw last Friday night on May 4. Considering what I'm about to explain in this post, I probably should have downed way more than just one measly glass of Newcastle Brown Ale that night. If anyone needed it more, I'm very sure it had to be me.
My friend Nico Colaleo was the person who organized the event, which took place in the cocktail lounge and karaoke bar at All Star Lanes in Eagle Rock. Knowing the setting, and Nico, drunken singing of 80s tunes, and shout-outs to the late Adam Yauch were inevitable.
I had always wanted to attend a Drink and Draw event since I first heard about them, so it felt like such a treat to finally be at one. Until I remembered that I get scared out of my gourd drawing in front of people that I don't know very well, especially artists with more experience under their belts…
The first half of the evening saw me shielding my work from view if anyone approached me from angles where they could be able to see the pen hitting paper. Mark Dowell of Circletine was the first person to call me out on it, which prompted Nico to turn to me and say, "Oh, you're at the wrong place if you don't plan on sharing your work. You should show us, come on!"
Commence hilarious scene of me screaming "NO" like a madwoman.
What made it even more intimidating was that most of the artists there were of the "f***ed-up drawings" variety. That's a term, meant as a compliment by the way, that I use for people who draw like the folks at Cartoon Network – thank you, Jackie Buscarino ("Adventure Time," "Fish Hooks," blah, blah), for planting those words into my brain during my days of unemployment. It's a far cry from my anime-influenced style, obviously; I felt very out of my element.
Here's the thing: I'm talented, I know I am. But it doesn't stop me from being my own worst critic and stressing over how my stuff will be received by my peers. Posting my stuff on this blog is easy because of the veil of anonymity that cyberspace brings with it. Showing my stuff to someone face-to-face is a different story entirely. It's like speaking in public, and I've never been much of a public speaker.
I remember drawing at my friend Mike Moloney's house on a sunny Saturday last month, when Megan Dong, a story artist at DreamWorks who I have mad respect for, asked to look at my sketches, and all I could think of was how I'd much rather jump off a cliff than show my comparatively inferior work to someone of her talent. Much to my relief, she complimented me on my work, saying that her favorites were the two girls on the bottom left corner of the left page.
It's like when I posted up those unfinished Photoshop sketches from 2011. Out of everything that I've posted since updating this blog consistently, those were the ones that I was most embarrassed to share, and yet, they somehow accumulated the most positive responses from mentions on other social networks. No other post I've made since then has topped it. Heck, even Garrett Jackson and Sara Pocock, both of whom I met at Drink and Draw, shook their heads over how I could be so ashamed over what they thought was beautiful. Guess it just goes to show that there's more of a reward to sharing, rather than keeping, your ideas to yourself.
But back to Drink and Draw, I didn't get to talk to everyone there because, honestly, I wasn't feeling particularly social that night, due to lack of sleep and a long day at work. A shame, really. My biggest regret was failing to introduce myself to Carlos Ramos, who appears to be a jack of all trades in animation, but that's not the real reason. No, the reason is that he did a rendition of Christina Aguilera's "Beautiful" so farcical and reminiscent of a Patton Oswalt: Jock Rock Your Life bit that, in retrospect, it seems heinous that I didn't record it. The world would have wanted such comic brilliance on video. Oh, you had to have been there. You had to.
For additional info and drawings by the other artists who attended Drink and Draw, check out this short and sweet entry by John Balsley.